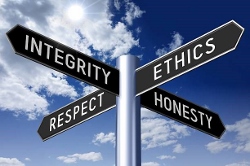 Join two-time former IECA President, Dr. David T. Williams, to explore the challenge of workplace ethics and how to take a proactive stance, develop an effective and sustainable set of guidelines for your organization, and implement best practices for dealing with ethically challenging situations. In this presentation, we'll discuss how to develop a strong and sustainable set of workplace ethics and guidelines designed to mitigate ethics creep, avoid legal implications, and build a solid, ethical foundation for a healthy workplace culture. We'll explore common ethical topics and challenges and detail the best practices to utilize when faced with ethically challenging situations. We'll also highlight the difference between a Code of Conduct and a Code of Ethics and review several effective example Codes of Ethics for both working professionals and public officials. And finally, we will go over real-life ethical situations that will get you thinking about what has been taught in the presentation.
Learning Objectives:
Understand the pitfalls of ethics creep (slowly eroding your ethics)
Identify how to determine an ethical path when doing business with others
Gain guidance in establishing personal and professional moral compasses related to ethics
Recognize the difference between a code of conduct and a code of ethics
Gain a clearer picture of the problems that are presented in ethically challenging situations
Know how to determine the course(s) of action for various ethical dilemmas
Last Updated: June 6, 2019
The
International Erosion Control Association
has met the standards and requirements of the Registered Continuing Education Program. Credit earned on completion of this program will be reported to RCEP. Certificates of completion will be issued to all participants. Complaints regarding registered providers may be addressed to RCEP at 1015 15th Street, NW, 8th Fl., Washington, DC, 20005. Website:
RCEP.net
.
Credit Information
| Activity Number | Credit Amount | Accreditation Period |
| --- | --- | --- |
| IECA PDH Webinar | 1.5 PDHs | from June 12, 2019 |